On Sunday morning, I took part in a beach clean at Llantwit Major beach, South Wales.  It was a gloriously sunny day; I was outside breathing the fresh sea air, moving, socialising, enjoying the beauty of Wales, and helping to protect our coastline.
What's the problem?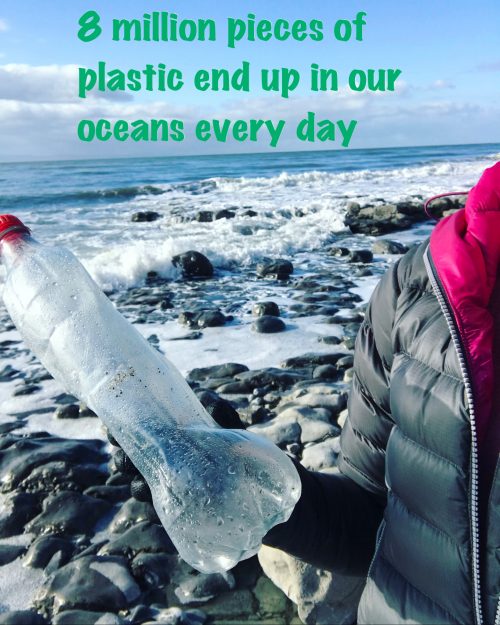 Plastic is cheap to mass produce, strong, and durable – but that's the problem.  A plastic bottle can last 450 years in the marine environment, fragmenting over time into microscopic pieces, which never properly break down.
Plastic pollution is deadly to marine wildlife; animals become entangled or mistake it for food.  Around 1 million sea birds and 100,000 marine mammals die every year.  Marine ecosystems are being damaged – not good news when we consider that 70% of oxygen is produced by marine plants.
1 in 3 fish caught for human consumption now contain plastic – it's pretty obvious that ingesting plastic isn't good for human health, but the worrying thing is we don't yet know how plastic ingestion is affecting us.  We do know that plastic chemicals like PDB's have been linked to endocrine dysfunctions, and some cancers.
On top of all this, pollution and litter spoil our beautiful coastlines.
Who's doing something about this in Wales?
Keep Wales Tidy are the charity working across Wales to protect our environment for now and the future.  One of their aspirations is to achieve a better cared for coast and marine environment.
What are Keep Wales Tidy doing?
Coast Care is their volunteer programme, which helps support individuals in making positive change and impacting marine pollution.  This includes anything from a #2minutebeachclean to large community efforts.
Recently, Keep Wales Tidy have teamed up with TerraCycle, who are a global leader in recycling difficult-to-recycle waste.
This is exciting stuff.  Traditionally, plastics collected through the efforts of volunteers couldn't be recycled due to sun, sea, and salt degradation.  It is fantastic when plastics are removed from local beaches, but with this partnership the waste can now be turned into new products!
Come and help me
As part of my ULTIMATE Wales expedition, I am fundraising for and supporting Keep Wales Tidy.  I aim to help raise awareness of marine pollution, and of the work done by Keep Wales Tidy.
On Sunday 19th November, I will be holding a beach clean at Rest Bay in Porthcawl – a favourite spot of mine (because of the surf!)
You can turn up and collect a few pieces of litter, or fill a whole bag.  Any help will be much appreciated.
Bring the kids, the dog, friends, or come along on your own.  Guaranteed fresh air, although I can't guarantee the weather (it's Wales – bring a coat, you'll be fine).
I have some vouchers to give away on the day, including a £10 voucher kindly donated by Coffi Co Porthcawl, where they do some awesome flavoured hot chocolates!  I also have two £10 Love2Shop vouchers to give away, which can be spent in a variety of high street shops.
There will be vouchers awarded for the most obscure or interesting objects found, and for the biggest rubbish collecting efforts.
For more information, view the event page here
If you're not available to help that day, or you don't live nearby, you can still get involved by doing your own mini beach clean!  Be sure to take some pictures and upload to social media – tagging @fitforadventure and using #ultimatewales