I often get asked how people can fit more adventure into their life around a full-time job, particularly if they live in the city. I usually answer with a question – if you have weekends off, how much can you fit in between a Friday night and a Monday morning? And if you hadn't guessed what I'm hinting at… the answer is a lot!
This post is sponsored by Wild Scotland, and the trip was gifted to me. All views are my own.
There are 60 hours between 21:00 on a Friday, and 09:00 on a Monday. Last month, Wild Scotland invited me to travel up to Aviemore, to spend my 60 hours paddle boarding, canoeing, and winter mountaineering in the Cairngorms. So here's the full breakdown…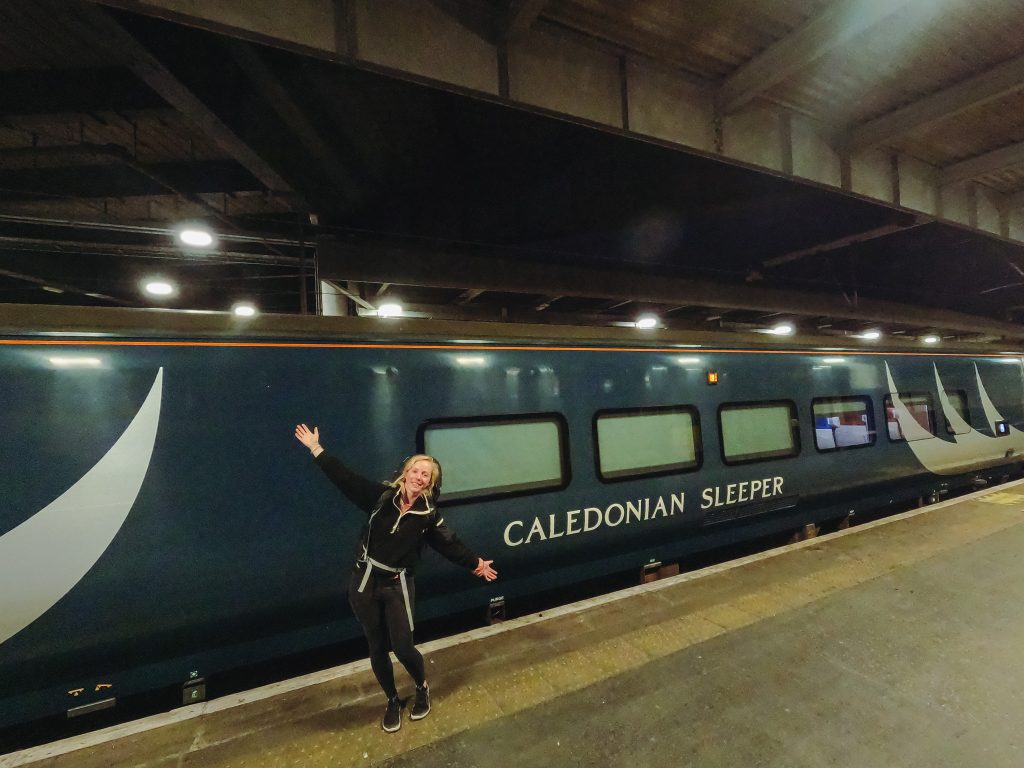 Friday 21:15
If you've never heard of the Caledonian Sleeper train, then think – moving hotel. It's an overnight rail service that runs between London and Scotland. You leave London in the evening and wake up the next morning in the Highlands. The train's made up of both seated carriages, and sleeper carriages. The sleeper carriages have double bed and bunk bed rooms, with en suite facilities. There's a Club Car where you can have an evening meal, a drink, and some breakfast the next day.
I've wanted to try the sleeper train ever since I saw Challenge Sophie travel on it a number of years back. It's a fancy way to travel, arriving in the Highlands feeling refreshed and ready to take on the day. It's one of those things I feel like you need to do at least once in your lifetime if you can, and I was so lucky to have the opportunity to try it for this trip.
I arrived early (there's a first time for everything), and I'd like to say this was so that I could immerse myself in the sleeper train experience (because that sounds good), but in reality, it was just so I didn't mess up and miss it! Let's just say, I struggle a little with the whole time-keeping thing. Luckily, you can board the sleeper train around 30-40 minutes before it's due to leave London. So after a train selfie (balancing the camera on a bin – because I'm posh like that), and some filming for YouTube, I trotted along the platform to coach J. A nice man with a clipboard explained a number of things that I instantly forgot, and I hopped on. Room 4 was mine for the night; a double bed and an en suite met me as I opened the cabin door, and laid out on the bed were some lovely toiletries, a door hanging thingy that I vaguely remembered the nice man mentioning (something to do with my breakfast order), and a little sleeper kit. I did what every normal person would do at this moment… a little excited dance!
Heading into the Club Car for dinner it suddenly dawned on me that people might dress up for this kind of thing… luckily they didn't! But it felt like the kind of thing my mum would have told me to put my best shoes on for. Salmon to start, the fanciest haggis, neaps, and tatties (a Scottish classic) I've ever seen for main, and a chocolate torte for dessert. I chatted to a sleeper train 'regular' for far too long, and then returned to my room. Donning the eye mask and earplugs provided in the sleep kit, I knocked the light off and slept my way across the border.
Saturday
Waking up to the sunrise and highland views was one of the highlights of the whole trip! A tasty Scottish breakfast featuring tatty scone (potato scone), and a coffee with a view. The train goes to Inverness, but I departed at Aviemore. Stepping off at around 07:30 (it was a tad earlier than scheduled), I could just see the tops of some of the Cairngorm mountains.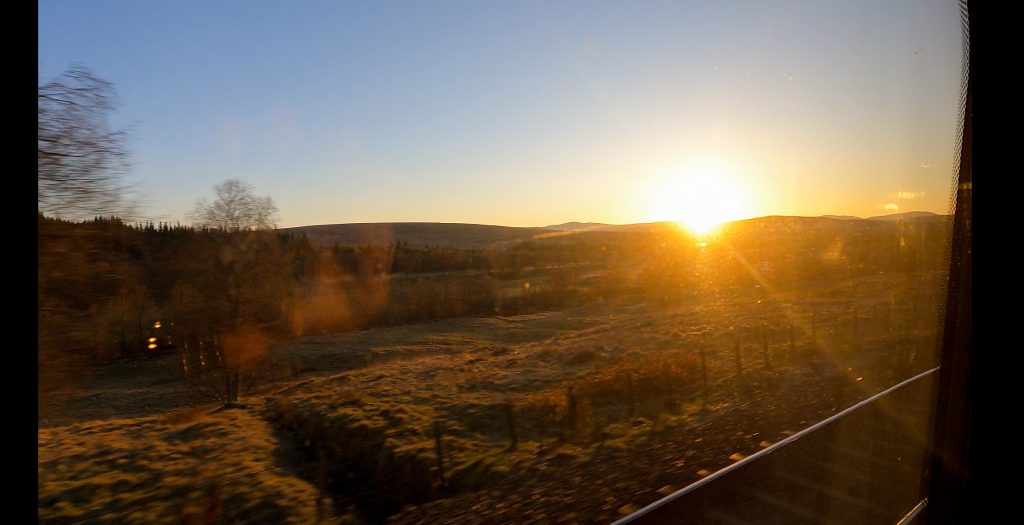 I was picked up at the train station by Mandy from In Your Element – an outdoor activity company, and member of Wild Scotland. We headed on a short drive to Loch an Eilien, where I embarrassed myself singing 'Come on Eileen' after learning that that's not how it's pronounced. Loch an Eileen means Loch of the Island. It's a beautiful loch at the foot of the Cairngorm mountains, surrounded by ancient pine trees, and has been voted Britain's best picnic spot.
Mandy and I headed out onto the quiet loch on paddleboards, under moody skies. As much as I'm a huge lover of paddling on the sea, it was so nice to paddle peacefully on the loch with no tides or boats to worry about. There was a bit of a South Westerly wind, but the trees provided plenty of sheltered bays to chill in. If you've never tried paddle boarding – I feel like this would be a great place to learn!
We grabbed a coffee from the little shop near the loch, which sells lovely locally made items, and headed back to the In Your Element base, where I met Mike who'd be taking me on my next activity. We took a scenic drive over towards Loch Ness, stopping off for an early lunch at The Cameron's Tearoom, near the famous Falls of Foyers. Next stop was Fort Augustus, where the Caledonian Canal meets the South West end of Loch Ness.
This was my first time in a canoe! And Loch Ness wanted to make sure I wasn't missing the sea too much, so it turned on the wind waves. After a calm morning on the paddleboards, I was ready for some turbulence. Strangely (maybe), I'm really glad it was rough. It was hilarious! And the pièce de resistance… Mike had a sail for the return journey!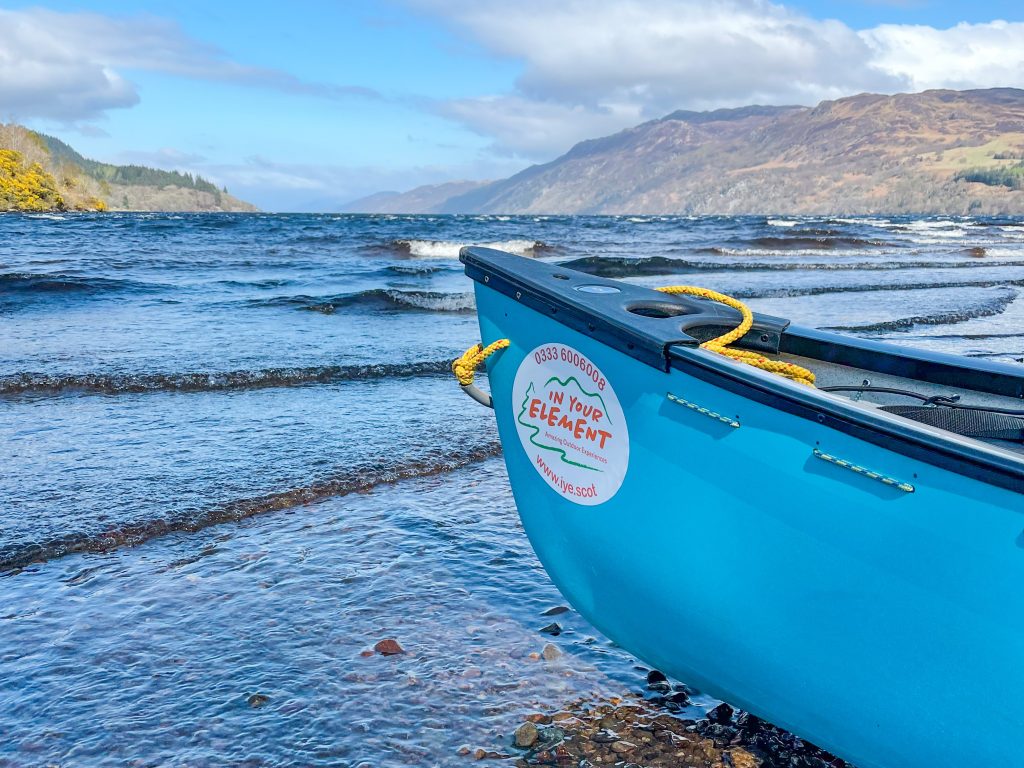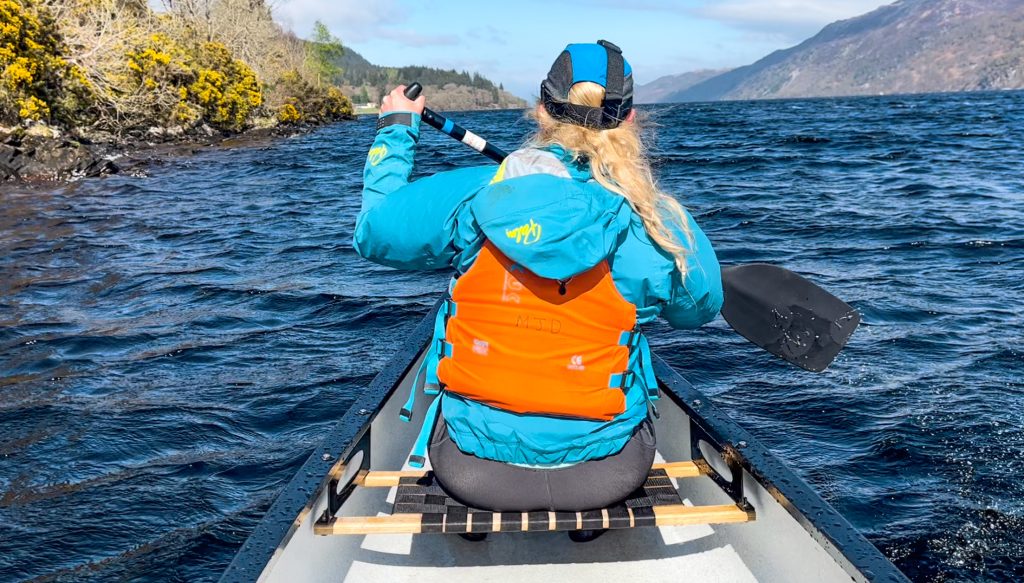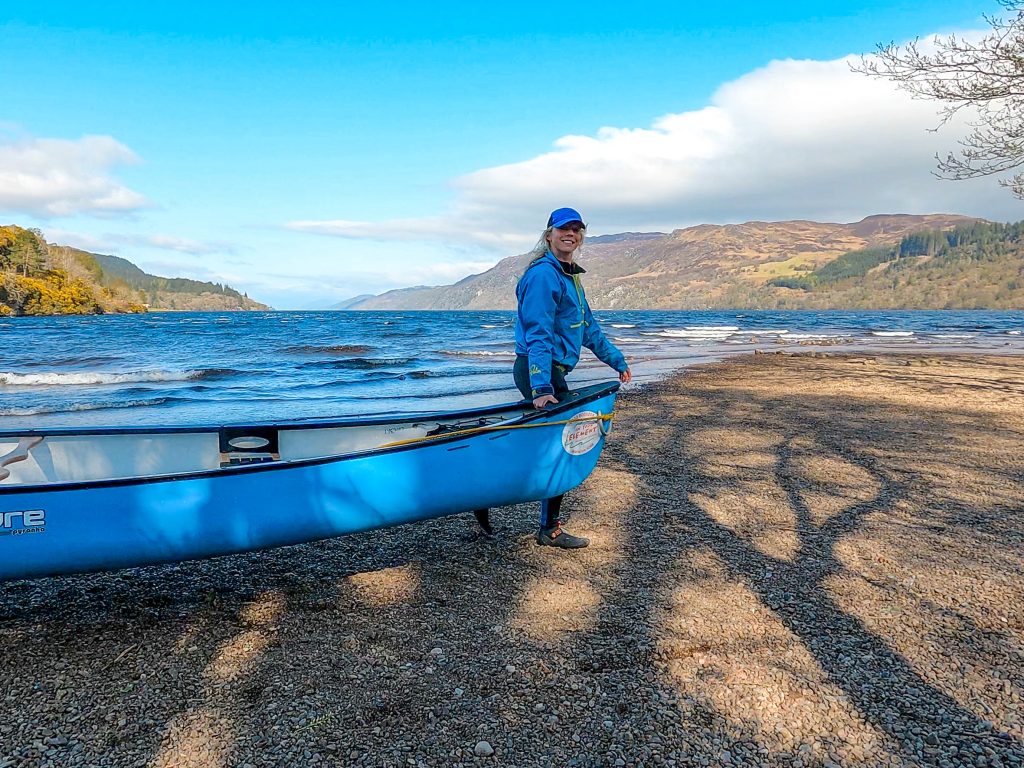 That night, I stayed in a lovely double room at the front of the Cairngorm Guest House, in Aviemore.
Sunday
After another hearty Scottish breakfast, made with local produce, I met Gary who'd be my mountain guide for the day, also known as the Winter Wizzard who was going to fund us some winter conditions. After a short taxi ride up to the Cairngorm mountain car park and ski centre, we set off into Coire an Lochain to find snow.
As well as being a mountain guide, Gary has a keen interest in wildlife photography, so he had plenty to tell me about the wildlife in the area. My personal highlight was his story about his best encounter with a feisty capercaillie, or 'big turkey' as he described its' looks to me. If you watch my YouTube video from the trip, you can hear it as he told it!
It's been a while since I put my crampons on, so it was awesome to refresh my winter skills and learn some new ones with a guide. Scottish mountains in winter are a different beast. It was like a whole different World up there – ice bergs floating in the lochan, and proper snow in the Coire! After cutting our way up the Coire and onto the top, we had some lunch with zero views at Cairn Lochan.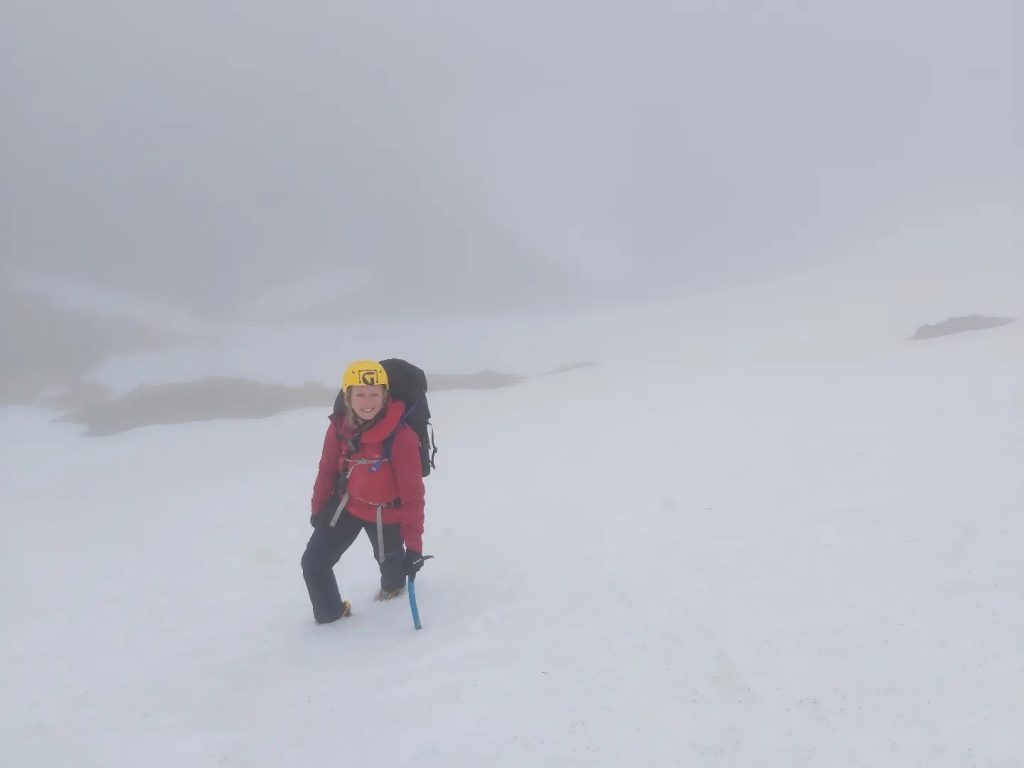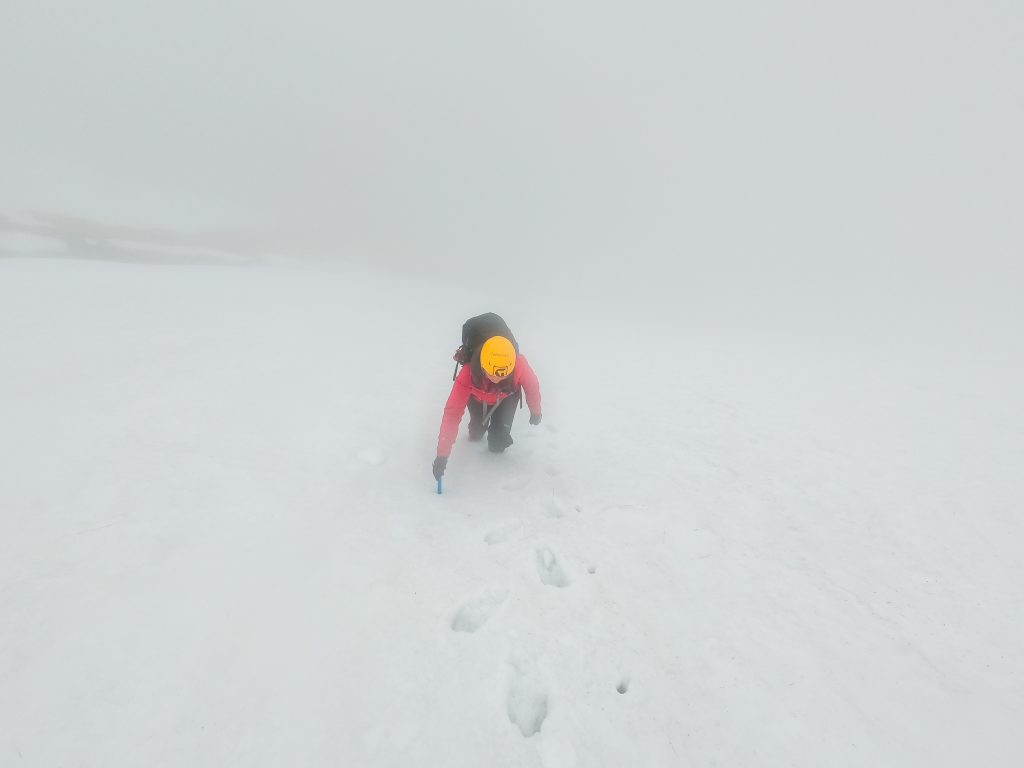 The final part of the day was my biggest highlight of the trip – we walked through white-out conditions to find what Gary called 'Snow Hole City'. This was another Coire, but one that's popular with people digging snow holes to sleep in! Emerging from the white snow on white sky, was a row of ready-made snow holes. I'm now more desperate than ever to try sleeping in one after crawling around inside them! For some reason, they gave me 'Wind in the Willows' type vibes – Mole or Badgers' house maybe, but the snow version. The one we explored had 2 levels, and the creator of this fine hole had even made cubby holes to put your stuff in.
I ended the day with a coffee in the Aviemore hotel, listening to a live singer, and reflecting on how awesome the weekend had been! I caught the sleeper train that evening, and fully appreciated not having to drive the return journey.
Monday 09:05
Eggs benedict and coffee greeted me in the Club Car as we entered the London borough. The sleeper train is scheduled to arrive at 09:05 on Monday mornings, but we were early, so I think it was around 08:40. I did the classic Brit thing and took my time getting off because I knew it wasn't going anywhere for a while and I wanted to savor the experience!
I'd highly recommend looking at the Wild Scotland website for your next trip, and considering the Caledonian Sleeper train as a more sustainable option than flying or driving -not to mention more relaxing! Wild Scotland is the Scottish wildlife and adventure tourism association, which is committed to responsible and sustainable tourism in Scotland. On their website, you can find a host of adventure activity companies offering all-season fun, accommodation, tour providers, and more, all of whom are committed to operating responsibly towards the environment, wildlife, and the local community.
Personally, I think using the Wild Scotland website to plan adventures is a no-brainer – it's an easy way to ensure you're making responsible and sustainable choices for your travel experiences.
I'd like to thank Wild Scotland and the Caledonian Sleeper train for this incredible experience.
Check out the trip video –
Links –
WILD SCOTLAND
Facebook: @wildscotland
Instagram: @wildscotland_
Website: https://www.wild-scotland.co.uk

CALEDONIAN SLEEPER
Facebook: @caledoniansleeper
Instagram: @caledoniansleeper
Website: https://www.sleeper.scot 


IN YOUR ELEMENT
Facebook: @iye.scot
Instagram: @iye_scot
Website: https://iye.scot


MCKENZIE MOUNTAINEERING
Facebook: @MckenzieMountaineering
Instagram: @mckenziemountaineering
Website: https://www.mckenziemountaineering.com