Cardiff Bay is the area of water created by the Cardiff Barrage, in the South of the city.  Supplied by two rivers, the Taff and the Ely, and blocked off from coastal tides by the barrage.  It's a great area to explore by stand up paddle board (SUP), and a perfect place to start paddling for beginners.  It can also provide more sheltered areas than coastal locations – ideal for some winter SUP board training!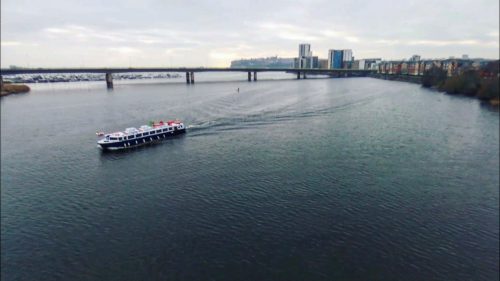 In early January, ready to kickstart 2018 with some Winter training, I packed my kit for a paddle boarding adventure in the bay.  Usually when I go on adventures I'm heading toward the coast, mountains, or lakes.  But within 15 minutes of leaving my house in Cardiff, I was sat outside Channel View leisure centre, eating a pot of porridge and waiting eagerly for the doors to open so I could pay my launch fee.  It costs £5 to launch from Channel View, and they give you a little pass to show anyone who might ask; I guess in case you get stopped by the harbour authority.
The water looked pretty calm, and there were several groups arriving with RIBs, or Rigid Inflatable Boats as it stands for (I can't pretend I knew that – I've just googled "inflatable speed boats")  They all knew each other, and I gathered that a day out on the water with boating friends was a regular thing for them.  Chatting to a few of these boat enthusiasts, I tried to sound like I knew exactly what I was doing.  But when I was assured by a skipper that there'd be plenty of helping hands on the water to rescue a damsel in distress if the weather turned, I realised that my cover may have been blown.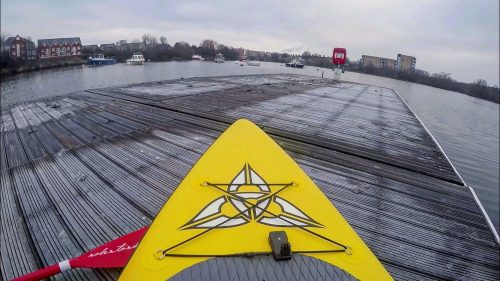 With no intention of ever needing to be rescued, but slightly reassured that should it go 'tits up' I wasn't out there alone, I headed confidently down to the jetty.  Avoiding the swan poo, and the swans themselves for that matter, I paddled my way from the mouth of the river Taff, out toward the wider bay.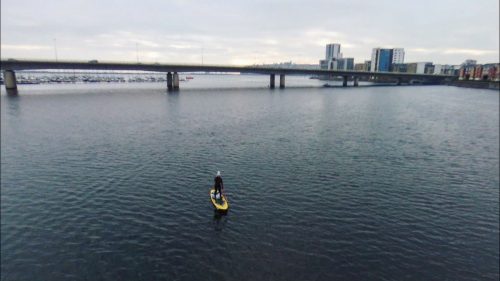 If I'm honest, I hadn't decided how far I was going.  But, with one eye on the weather, and the other monitoring my energy levels, I headed across the water toward the barrage.  I'd always advise beginners to stay toward the edge, I'd also advise them to paddle at least in pairs.  But I'm not quite a beginner, and I also never take my own advice – so I went slap bang across the middle of the bay on my own – and it was awesome!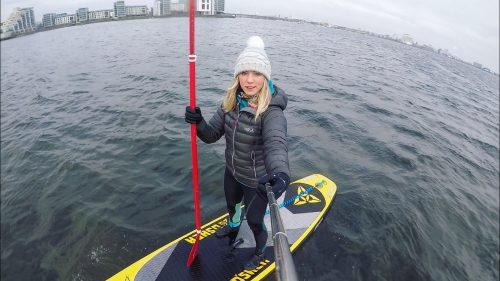 I turned just before getting to the barrage itself, and headed along the edge of the bay, back toward the mouth of the Taff.  The wind had picked up a little, and there was a bit more chop in the water.  I still managed to stop and get a few selfies with the GoPro, even though that meant floating back about 7 miles (slight exaggeration) whilst faffing with the camera.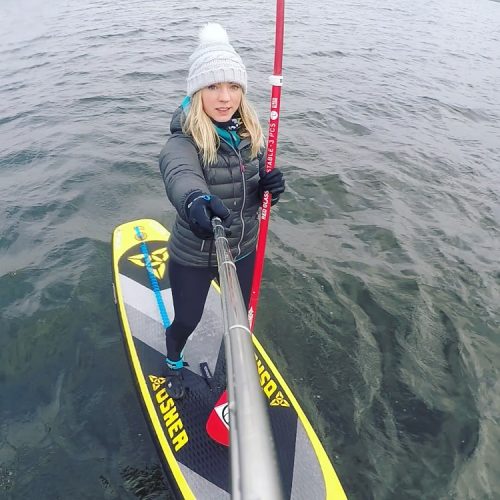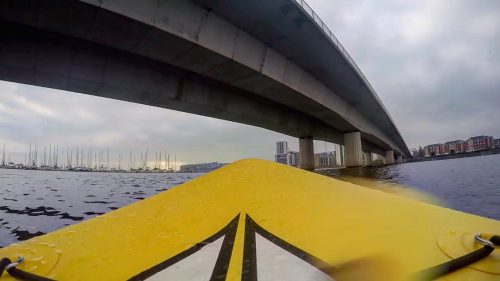 I headed under the Cardiff Bay link road back toward Channel View, but I wasn't done yet.  Leaving Channel View in the opposite direction takes you up the River Taff, and toward the Principality Stadium.  So, with plenty of energy still in the tank, that's where I headed next.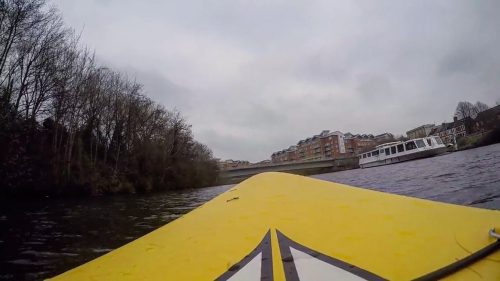 I passed water taxis full of tourists travelling from Cardiff centre to the bay.  Paddling through two dark tunnels, I wondered how many rats could be swimming nearby!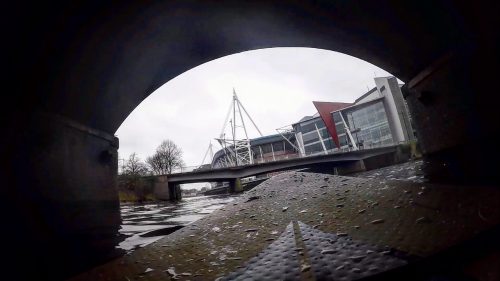 I reached the Principality stadium before turning back down river.  The paddle back was leisurely, in fact there wasn't that much paddling involved as I coasted down river.
I headed back to Channel View after what was a successful paddle session by all accounts, and only then did I realise how hungry I was!
If you want to see a snapshot of the action, check out my YouTube video…
If you'd like to try out paddle boarding, keep an eye on my website events page, Facebook, and Instagram for Introduction to SUP sessions which I'll be hosting this spring, in association with South Wales SUP club.  If you are interested – pop me a message now via social media to register your interest.
If you have some SUP boarding experience, and would like to go out in Cardiff Bay, you can hire kit from Puravida Board Riders in Penarth – and please give me a shout if you're looking for some company!