Derwent water, fed by the river Derwent, is the third largest lake in the Lake District.  With its' glassy waters, islands and mountainous surroundings, it creates a scenic location for paddling.  There is good access for launching stand up paddle boards, kayaks and canoes, with launch fees varying between launch spots (read on to see where I launched for free!)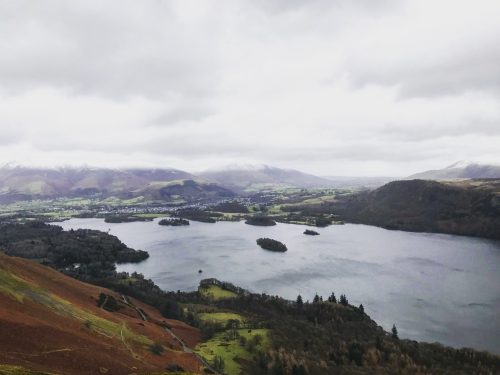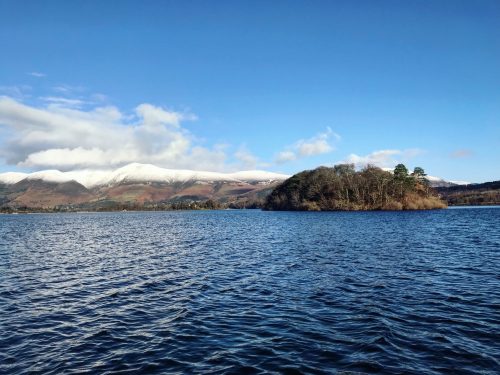 Over Christmas, in that period where it's totally acceptable to stay in pyjamas and have no idea what day it is (shout out to those people who work to keep the World going around over Christmas), I took the opportunity to start some serious paddle board training for my ULTIMATE Wales expedition.
Thanks to Puravida Boardriders of Penarth in South Wales, I was kitted out with the O'Shea GT inflatable SUP board.  I borrowed the kit for the festive period, and prayed that the weather would play ball.
Two days after Christmas I headed off on a road trip, arriving in the Lake District that evening.  The next morning, with an early start and a belly full of breakfast on my side, I headed out to the lake.  Day 1 was a crisp cold day, with blue skies and chilly winter sunshine.  Right on the lake shore is Kettlewell National Trust car park; small but perfectly situated for launching onto Derwentwater.  There is a pay and display machine, however, when I visited it was out of use, and I think it had been for a while.  I can imagine that this car park would fill up early in the summer months, so it would be best to arrive early to get a space.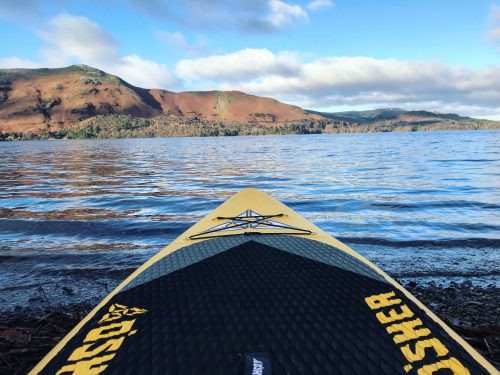 This was my first time paddle boarding in Winter, and being reluctant to go out and spend a pretty penny on a dry suit, I decided to wear my wetsuit with a couple of clothing layers over the top.  For winter SUP'ing, although tempting to layer up in your warmest bits and pieces, it's not advisable to wear clothing which would become water logged if you fell in.  My wetsuit alone isn't warm enough for a cold winters day on top of the water, so extra layers were a must.  I weighed up my options and decided that if I did fall in, I'd have my wetsuit to help retain warmth whilst I paddled back to land.  As much as you think you won't fall in, there is always a chance.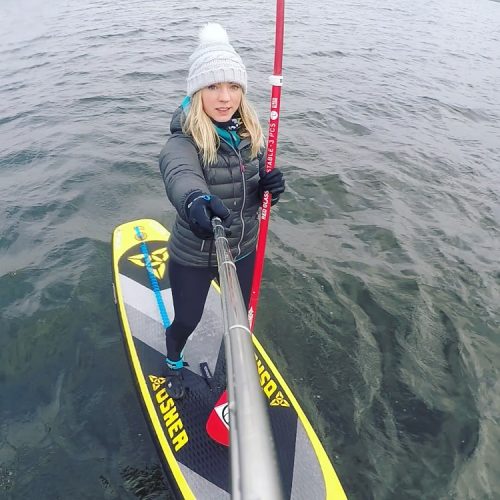 Launching out onto the lake was serene.  An intermittent breeze gave the water a manageable choppiness.  I soon found my confidence on the perimeter, and started paddling toward the opposite side.  Derwentwater is approximately 1 mile wide and 3 miles long, with the town of Keswick at the northern end, and the river mouth at the southern end.  There was not a person in sight, and with the mid-morning sun now shining above the eastern mountains, the scenery was epic!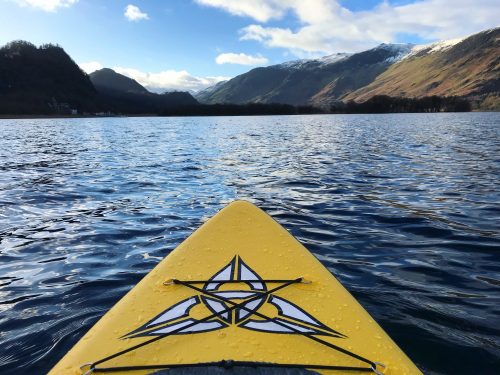 Toward the middle of the crossing, the wind blowing toward the north caused a bit of a side-on wave, but it was nothing too crazy.  In the summer months, I've paddled along sections of the South Wales coast, so I'm used to bouncing across waves.  The wind drag did however slow my pace, but I was glad to have this opportunity to practice in different conditions.  The wind is one of the variables which I want to understand and experience as much as possible, before I embark on my expedition in the summer.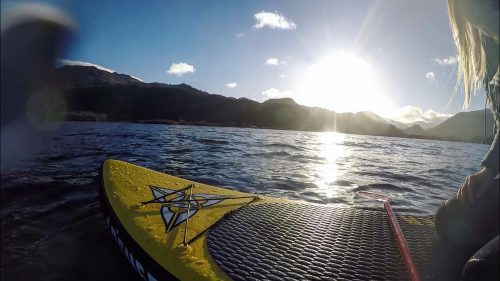 As I got close to the other side, I started to head North toward Keswick.  As well as practicing my paddling, I wanted to practice my GoPro skills – selfies are not my strong point, and neither are they my bag.  I waved the GoPro around on video mode, hoping I'd have some Instagram worthy footage captured.  As it turned out, I did manage to capture a few good angles of the scenery, and a few cringe worthy mug shots.  Unfortunately, the battery life for the GoPro is pretty pants!  So without a spare battery stash, I wasn't able to capture my full paddle journey like I'd hoped.  Here's my first GoPro video attempt….

My paddling took me along the western edge of the lake toward Keswick, between the islands at the northern end, and back against the wind on the eastern side.  Day 1 was complete, and I celebrated my first proper training day with way too much food that evening, coupled with an early night.
Day 2 of training began a couple of days later after a family visit Scotland.  Back at the lakeside in Kettlewell car park, the lake looked glassy and flat.  I watched a canoe head off toward the river mouth, and chatted to a kayaker who was setting up for a paddle to the other side with his dog.  The weather wasn't so bright this time, cloudy with a light breeze though, and nothing forecast to change until that night.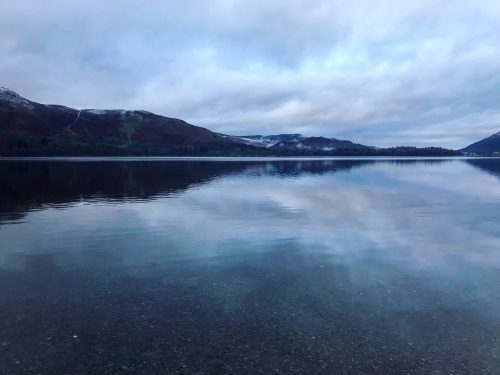 After inflating the SUP, kitting up, and watching the kayaker launch, I attached my leash at the water's edge.  With the water still looking glassy and flat, I set out with a plan to venture toward the South to explore the river mouth.  After only 5-10 minutes however, mother nature piped up, and the lake became what felt like a wind and wave tunnel.  The waves weren't really too much of a problem, but the strength of the wind made paddling pretty difficult.  In fact, when the wind gusted strongly, I could do nothing but use my paddle to hold my position, to stop me from being blown to Keswick.  I didn't feel that I could fully control my direction, and as I looked toward the middle of the lake, I knew there was no chance I could paddle against the wind strength.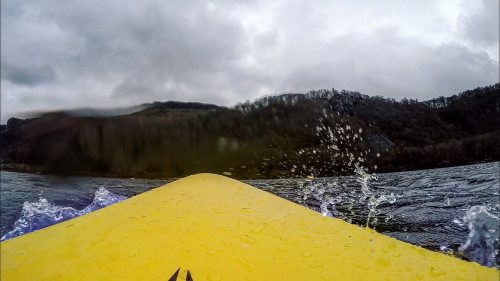 I decided it was best to abandon the session, and paddled back to the shore.  It took me more than twice as long to get back as it had to get out.  Although I didn't consider the situation dangerous, I knew that my worst case scenario of being blown to Keswick would mean a long walk back carrying the SUP.  As I landed on the shore, I noticed the kayaker heading in.  He'd also abandoned his trip, and we waited with baited breathe as his dog swam against the waves toward the shore, still with her stick in her mouth.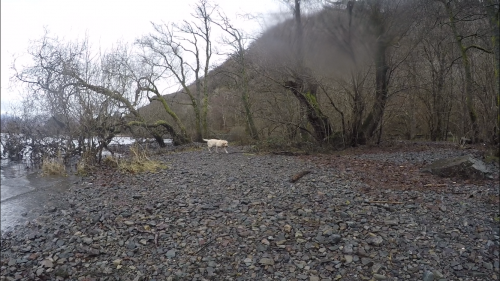 Despite my disappointment at abandoning the day, it was a great reminder that at times, the weather dictates to you what you can and can't do.  I love the great outdoors, its' unpredictability, and the need to make decisions based on situations as they arise.
The day wasn't wasted in the end, I learnt a lot, and spent the rest of my time hiking and taking in the beautiful snow topped mountains and Lake District views!